Our Mission is to lead children to become growing followers of Christ, preparing them to be used by God, to change their lives, their friends and families' lives, to build the church, and impact the world.The Children's Ministry is centered around these core values: God's Word, Discipleship, Mentoring, Application of Knowledge, Fellowship, Developing the Individual, Love, Missions, Accountability, Excellence, Hospitality, Evangelism, Prayer, Worship, Acceptance, Community, Service, and Family.
Sunday Services
Bible Fellowship Groups
9:30-10:30am
(Babies, Toddlers, and Pre K)
(
4 year olds & Kindergarten)
Kids dismissed after music
Kids dismissed after music
Wednesday Services
GROW Kids
6:00pm-Meal
6:30-8pm Lesson, Recreation, and Music
We have a van ministry that is able to pick up children in the Hamptonville area.
Call the church office for more information.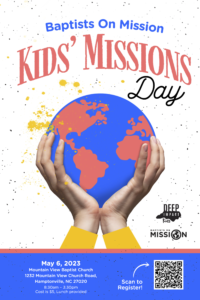 Baptists on Mission
Kid's Missions Day
is a one day event on
May 6, 2023
8:30 am – 3:30 pm.
Mission projects will be appropriate for children in grades 1-6. Cost is $5 which covers lunch.
This event is presented by NC Baptist on Mission and is located at
Mountain View Baptist Church 1232 Mountain View Church Road Hamptonville NC 27020.
The event presents Gospel-Centered, Missions-Focused, Life-Impacting age appropriate mission opportunities for all attending!
2023 Events